Section 4

Data Management Workflow

This section is in two parts, to first describe a workflow that we use internally at TBEP to manage our data in section 4.1 and then to describe a road map for opening internal or external datasets at your own organization in section 4.2. The first section expands on our philosophy for using open science to manage data, including specific workflows we use, as context to the second section. Our approach is one way of applying open science to managing data. Applying the same approach at your organization may or may not be appropriate depending on your internal and external needs for managing data. As such, our approach is generalizable and modular - any of the approaches can be modified in part or together for your own needs.
4.2

How can you manage data?

This section is written as a road map for managing a data product, keeping in mind the list of tools and resources in section 4.1 that can be used along the way to develop the product. These tools can help you at different stages of the data management process to help build the layers of the open science cake. The guidance provided by Goodman et al. (2014) and Michener (2015) are also excellent resources presented as "simple rules" for working with data. Goodman et al. (2014) develops a metaphor of data as a living entity by describing rules for the care and feeding of scientific data. Michener (2015) focuses on rules for developing a data management plan. Many of the concepts and tools presented herein are elaborated upon in these two resources.

A road map to developing a plan and set of tools for delivering a data product is shown in figure 4.6. This map is presented as a hypothetical one-year project from beginning to end, but it can be applied to a project of any duration. The steps are separated along a general timeline with a notable distinction between steps occurring before and after data collection. It's also very important to realize that "data collection" can have a literal interpretation as collecting data in the field or during an experiment, whereas collection can also be considered generically as the process of creating less conventional data products (e.g., workflows, modelling output/information, decision-support tools, section 3.1).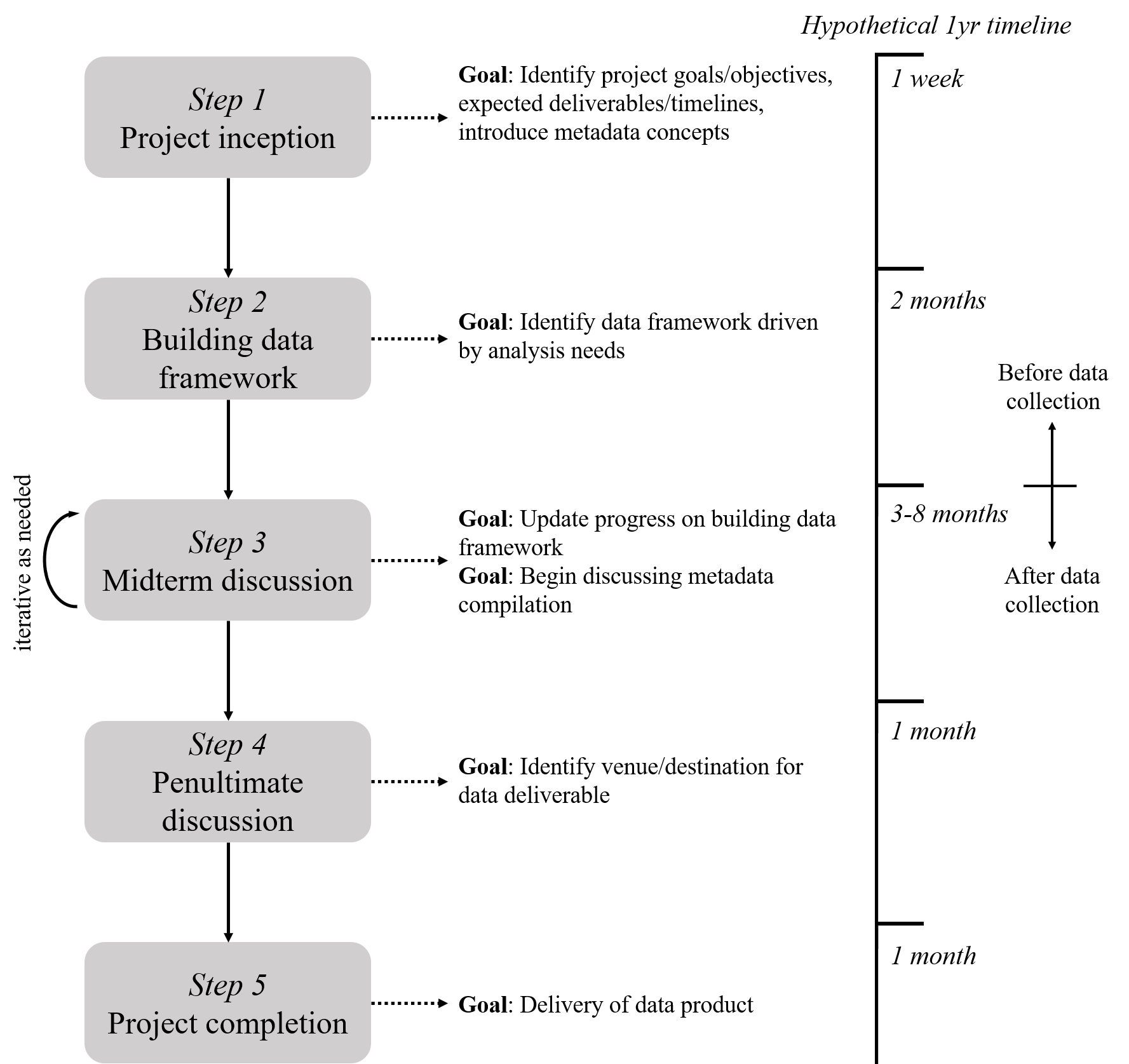 There are five general steps in the road map. Where you're at in the project determines what conversation you're having with yourself and your research team about managing the data product. At the beginning of a project in Step 1, goals and objectives are defined, potential data contributions are identified, and metadata concepts are introduced. Step 2 is developing the data framework, meaning you will identify how your data are structured within the goals of the project. Here you are thinking about data dictionaries or workflows you will use to generate the data product. In Step 3, you are actively collecting and curating data in a way that conforms to the framework you've developed. This step is iterative because it is where most of the work happens and you may need to rethink some of the ideas around data curation based on how the collection process works in reality. Steps 4 and 5 focus on identifying where the data are going to be maintained/stored and finally delivering the data at that location.
The road map in figure 4.6 can be used in parallel with other project timelines, such as those included in a scope of work. It is a separate but complementary approach that focuses specifically on data, as compared to other details associated with a research project (e.g., budget, field work, etc.). The road map also emphasizes that researchers should be proactive in thinking about their data deliverables, particularly regarding important contributions, appropriate formats, metadata concepts, and conformity with this TBEP SOP. The earlier these conversations happen in a project, the easier it will be to deliver a well-documented data product.
A researcher or research team will benefit most by using this road map from the inception of a project, although we realize that this may not be the norm and data curation is routinely considered an afterthought. For this reason, we present the following sections as a guide to using this road map at any stage of the research process.
4.2.1

I'm at the beginning of my project

In an ideal scenario, you are actively thinking about a plan for delivering your data product at the beginning of a research project. Data are the foundation of the project and discussing how you will work with it at the beginning will ensure that the foundation is on solid ground moving forward. Starting the conversation early can also normalize ideas about the importance of paying close attention to data curation. Data are often poorly managed because the value of proper data management to the individual or an organization may not be apparent. These values are also not immediately obvious unless you've spent a lot of time working with other people's data. This includes conversations about the value of metadata. Discussing these details at the beginning of a project will establish a culture of stewardship that is parallel to the larger research process.

Appropriate questions to answer at the beginning and early phases of a project (steps 1 and 2, figure 4.6) can include the following.
What type of project am I working on and what products can I expect?
The answer to these questions could be based on the intended audience for results that are produced by this research. If your project will have results that can be applied to address some real-world issue, than you are likely working on a project that can deliver a data product to inform decision-making. Think about an appropriate format for this data product that will best meet the needs of your audience.
Which datasets are important?
The answers to the previous questions define your answer to this question. However, it's a rare scenario when you only have one data product as the primary contribution from a project. Early conversations about which data products will be the focus of curation are necessary at this stage. Guidance for determining which datasets are important are expressed in detail in section 3.1.
How do I want to make the data accessible?
Data typically won't be made accessible until the end of a project, but knowing where your data will live can help identify what tools you need to use along the way to deliver the product. This includes identifying an appropriate metadata format, analysis platforms to work with the data, and formats that are supported by the location where you're going to keep the data. Having clear answers to these questions will save you the most time at the end of a project.
What QA protocols should be established?
Developing a plan for using the FAIR principles with your data is just as important as ensuring the data have adequate quality for use by you and others. At the beginning of a project, start actively developing a data management plan that defines appropriate methods for collecting the data and verifying its quality. Guidelines in Michener (2015) can help with this process or you can use the online Data Management Plan tool.
4.2.2

I'm somewhere in the middle of my project

In a less ideal scenario, you are somewhere in the middle of your project and are just now thinking about types of data products and the path you'll take for their delivery at the end of the project. At this stage, you'll need to retrofit some answers to the questions in the last section to identify important data contributions, how you'll make them accessible, and how you'll collect and format the data to ensure adequate quality. It will be easier to answer these questions if you have yet to collect any data. However, you will need to make sure that you and your research team understand the value of data curation since now it will be seen more as an afterthought that was not discussed at the beginning of the project. You will need to put in some extra work to normalize conversations around data management and why doing so is important.

If you have already collected data, you'll need to take some time to evaluate how you're collecting this information so that it addresses the answers to questions in section 4.2.1. If you're collecting tabular data, make sure you are using a tidy data format (section 3.3) and that you have developed an appropriate data dictionary (section 3.4.3) to put some boundaries on how the information is stored. At this stage, it may be impractical and unreasonable to ask field or lab staff to enter their data differently and developing a post hoc workflow to wrangle your data into a tidy format may be the best option. Identifying appropriate keys for your data is also critical at this stage. If your data product is more general (e.g., analysis workflow, decision-support tool), make sure you can trace the provenance of these products to their conception. What inputs did you use to create this resource? If you built it from scratch, what tools are you using to build the product (e.g., software and versions)? You may need to do a bit of detective work to identify answers to these questions.

For metadata, the same rules apply in the middle of a project as those at the beginning of a project. First, identify where you plan on delivering and hosting your data and work backwards from there. If the location has a specific metadata standard, identify the information you'll need to conform to that standard. If you plan on hosting your data at a more general location, start collecting answers to the "who", "what", "when", "where", and "how" questions for your data. The most important part of this process is understanding that metadata documentation should start as soon as you realize that you have not been doing so. The longer you wait, the more likely it is that you'll be unable to track down information or you'll simply forget important details about a dataset.
4.2.3

I'm at the end of my project

Prepare yourself for damage control if you're at the end of your project and have yet to think about data management. You not only have to make some judgment calls on the most important contribution, but you also have to begin the laborious process of finding and extracting intimate details about that contribution. The temptation to identify low-hanging fruit that are easy to document but may not be the most important contribution is very real and you should avoid doing this to not undersell the potential impact of a project. Putting in the time to backlog the provenance of a more important contribution should be an investment that will have more pay off in the future than documenting an intermediate or less relevant data product. The most important question to answer at this stage is what is the most anticipated and impactful result of this research project and what dataset delivers this result?

In the real world, most researchers discuss delivery of a data product at the end of a project because nobody wants to do this at the beginning when more interesting and creative problems about a project are the center of discussion. Of course this is not ideal, but we want to encourage you not to feel overwhelmed and not to give up at this stage. We presented a lot of information about data management so far, but you should not feel that you need to do it all. As before, something is absolutely better than nothing and giving up because you are overwhelmed to do "all the things" should not be a deterrent. Open science and data management is incremental and, in reality, very few individuals will be able to complete all of the checklists without years of experience and substantial help from others. So, pick one thing off the list and use that as a starting point to building your comfort and skills in adopting better data management practices (spoiler: it should be metadata).
4.2.4

Metadata workflow

We described general metadata concepts in section 3.4.1, but did not provide a workflow for creating or generating metadata. The process begins by answering the general questions we presented as a summary of those in the Metadata in "plain language" document. Just start by writing the answers down in a simple text file or even as a spreadsheet with columns for each question. Where the answers to these questions go depends on how formalized you want to make your metadata, which also depends on where you want to make your data accessible. More informal storage approaches (e.g., GitHub, FTP site) could store metadata as a text file (e.g., in a README document), whereas storing your data in a formal repository would require you to choose an appropriate metadata standard (e.g., EML in section 3.4.2). Custom workflows that combine metadata documentation through an online user interface can also be created if you or your team have the capacity to do so (Jones et al. 2007).

The following can be used as a generalized workflow for metadata generation, ideally at the beginning of a project. How far you go in these steps depends on where you want to store your metadata.
Identify which dataset(s) are important contributions of a project that you intend on sharing and that need metadata (see section 3.1).
Draft a general document to answer the "who", "what", "when", "where", "why", and "how" questions in section 3.4.1 for each data product. This can be a simple text file that "accompanies" each data product. A spreadsheet entry form can also be useful so that the metadata are in tabular format. If it's tidy, this can be used to import into a program for converting your metadata into a formal standard or for uploading to a data repository.
Convert the metadata document into an appropriate file format based on the metadata standard you're using. For EML metadata, this would be an XML file.
This workflow is a starting point for creating simple to more complex metadata. For a hypothetical example, the absolute bare minimum for metadata might look like this (e.g., in a spreadsheet):
| Question | Answer |
| --- | --- |
| Who | Marcus Beck (fakeaddress@email.com) |
| What | Water Quality Assessment Data |
| When | 2020 |
| Where | Tampa Bay |
| Why | Reporing on annual water quality trends for programmatic update |
| How | Data were collected monthly as part of the EPCHC monitoring program |
If we wanted to add some specificity, we could create separate fields to include more detailed information.
| Attribute | Entry |
| --- | --- |
| first | Marcus |
| last | Beck |
| email | fakeaddress@email.com |
| title | Water Quality Assessment Data |
| startdate | 1/1/2020 |
| enddate | 12/31/2020 |
| location | Tampa Bay, FL, USA |
| west | -82.8 |
| east | -82.3 |
| north | 28 |
| south | 27.4 |
| methods | All data were from the Environmental Protection Commission of Hillsborough County (https://www.epchc.org/i-want-to/view-gis-maps-and-data). Data are monthly at mid-depth for each of 50 stations throughout the Bay from 1974 to 2020. Stations were visited on a rotating schedule such that one third of all stations were sampled each week. Bay segments represent management units of interest with distinct chemical and physical differences. Accordingly, station data were aggregated by median values within each of four Bay segments. Data are used to assess progress in achieving programmatic goals for the Tampa Bay Estuary Program. |
Finally, if we wanted to convert this information to an EML metadata file, we can use some tools in the EML R package. This example includes all of the information from the last example, but using specific tags and entry methods for the EML format, The methods information can also be entered as a separate file for more long-form documentation (i.e., set_methods('data/methods.docx')). After the file is written with write_eml(), it can be validated for accuracy and completeness with eml_validate(). The finished metadata file can be viewed here.
library

(EML)



# enter the metadata




<-

 

list

(
 me 

individualName =

 

list

(

givenName =

 

'Marcus'

, 

surName =

 

'Beck'

), 
   

electronicMailAddress =

 

'fakeaddress@email.com'


   
 )

<-

 

'Water Quality Assessment Data'


 title 

<-

 

set_coverage

(
 coverage 

begin =

 

'2020-01-01'

, 
   

end =

 

'2020-12-31'

,
   

geographicDescription =

 

'Tampa Bay, Florida, USA'

,
   

west =

 

-

82.8

, 

east =

 

-

82.3

, 
   

north =

 

28

, 

south =

 

27.4

)
   

<-

 

set_methods

(

'data/methods.docx'

)
 methods 


# combine the metadata




<-

 eml

$

eml

(
 my_eml 

packageId =

 uuid

::

UUIDgenerate

(),  
   

system =

 

"uuid"

,
   

dataset =

 eml

$

dataset

(
   

title =

 title,
     

creator =

 me,
     

contact =

 me,
     

coverage =

 coverage, 
     

methods =

 methods
     
   )
 )


# write and validate the file




write_eml

(my_eml, 

'data/my_eml.xml'

)


eml_validate

(

'data/my_eml.xml'

)
There are many more attributes that can be included in EML metadata. For example, we discussed the importance of a data dictionary in section 3.4.3. This information can be documented in an EML file in different ways and we encourage you to view the EML website for a full overview.
The intent of presenting this example was to demonstrate simple to more complex approaches that you can use to create metadata. However, it's also worth pointing out that this process can be completely operationalized through the workflows described in section 4.1.3. It would be entirely conceivable to use a spreadsheet or web form entry to collect attributes for the EML file, import that information in R, and create the file with the EML R package. This can be automated through a CI/CD build process on GitHub, where a user would only have to enter data on a web form and the rest can be handled through a routine created in R that is executed on GitHub. Moving towards this approach to document and create metadata would be a tremendous leap forward in curating data products that are used by TBEP and its partners.
4.2.5

Let's get it online!

The previous sections on sharing data have covered general topics on where data could live (section 3.5) and some options of how we do this at TBEP (section 4.1.4). These motivating examples are provided as a set of options, from simple to more complex, depending on how detailed and permanent you want to make your data. Your data are less likely to be orphaned when more time is invested in documenting metadata and if you choose a location that is legitimately setup for archiving (e.g., DataOne). The options we presented can be used to achieve these goals with varying success and it's your perogative on which option is most appropriate given the time you have to dedicate to data management, the objectives you have in doing so, and the ultimate requirements specified in a particular project agreement.

We have not provided step-by-step details on how to deliver a data product online and we leave this exercise up to you. In most cases, getting a dataset online is straightforward but the ease of doing so depends on where you want to put the data. For simple solutions, such as FTP hosting or putting a dataset on Google Drive, all you need to do is upload the data by hand or use an existing file transfer service (e.g., PuTTy). Of course, make sure you also upload any metadata and make it clear that your metadata accompanies the file you uploaded. Hosting data on GitHub can be done using a command line interface (such as Git Bash) or as a GUI through GitHub Desktop. Tools available in RStudio can also be used to host projects on GitHub.

For more involved hosting platforms, data can also be uploaded through an online web interface. For example, data can be uploaded by hand to the knb node of DataOne in a web browser, including entry of metadata to generate the EML file. However, open source tools can also be used to link directly to these services to build an integrated data delivery pipeline to avoid uploading information manually. In addition to the EML R package, the metajam package can access repositories on DataOne using R. Many of these packages are under active development and the services they provide to access federated data repositories is expected to improve over time.
References
Beck, M. W., C. O'Hara nad J. S. S. Lowndes, R. D. Mazor, S. Theroux, D. J. Gillett, B. Lane, and G. Gearheart. 2020.
"The Importance of Open Science for Biological Assessment of Aquatic Environments."
PeerJ
8: e9539. https://doi.org/
https://doi.org/10.7717/peerj.9539
.
Goodman, A., A. Pepe, A. W. Blocker, C. L. Borgman, K. Cranmer, M. Crosas, R. Di Stefano, et al. 2014.
"Ten Simple Rules for the Care and Feeding of Scientific Data."
PLoS Computational Biology
10 (4): e1003542.
https://doi.org/10.1371/journal.pcbi.1003542
.
Jones, C., C. Blanchette, M. Brooke, J. Harris, M. Jones, and M. Schildhauer. 2007.
"A Metadata-Driven Framework for Generating Field Data Entry Interfaces in Ecology."
Ecological Informatics
2 (3): 270–78.
https://doi.org/10.1016/j.ecoinf.2007.06.005
.
Lowndes, J. S. S., B. D. Best, C. Scarborough, J. C. Afflerbach, M. R. Frazier, C. C. O'Hara, N. Jiang, and B. S. Halpern. 2017.
"Our Path to Better Science in Less Time Using Open Data Science Tools."
Nature Ecology & Evolution
1 (0160): 1–7.
https://doi.org/10.1038/s41559-017-0160
.
Wickham, H., and J. Bryan. 2015. R Packages. Sebastopol, California: O'Reilly.